For anyone looking for a home that is nestled in a quiet, comfortable setting that feels rural...away from the hustle and bustle of work life....look no farther than the Waterfall Subdivision of Irmo, South Carolina! Located about 18 miles northwest of the capitol city of Columbia, this neighborhood feels just far enough away for an "escape" home..yet is still very convenient to the interstate (I-26), shopping and other conveniences! It is about 20 minutes from Lake Murray and convenient to both the Lighthouse Marina and the Lake Murray Marina.
Though an Irmo address, this subdivision sits in a location that is more centered between the city of Irmo and the city of Chapin, South Carolina. It is most easily reached by taking Exit 97 (The Peak Exit) off of I-26 onto Broad River Rd. The subdivision is located 1.2 miles off of the exit on the right.
This quiet neighborhood takes a lot of pride in its entrance for which it was named. It has a beautiful waterfall that is well maintained by the community. The community also has a nice, natural and woodsy feel thanks to the beautiful hardwood trees preserved there.
Waterfall has a total of 174 homes and is set up around a main loop called "Whitewater Drive." (See a satellite image of the entire subdivision HERE.) There is a neighborhood park in the middle area with a small playground, benches, picnic tables and a grassy area for sports.
School Information
The Waterfall Subdivision, located in Irmo, SC, is zoned within the Lexington/Richland School District 5 for the following schools.....
Lake Murray Elementary - located at 1531 Three Dog Road in Chapin, SC. This school houses students from Kindergarten through 5th grade. The current size (2011) is approximately 850 students. It gets rave reviews from the community and test scores are high! See more information on area this school and other area schools here.
Chapin Middle School - located at 1130 Old Lexington Hwy in Chapin, SC. This school houses 6th grade through 8th grade and its current size is about 950 students (2011). This school also has high test scores and offers many extra-curricular activities for its students. See more information on this school and other area schools here.
Chapin High School - "Home of the Eagles" is located at 300 Columbia Avenue in Chapin, SC. Students attend this school from 9th grade through 12th grade. It currently houses about 1250 students for these 4 grades (2011). This is another local school with high scores and great reviews. This public high school offers many honors, advanced and advanced placement courses. It also takes pride in its many sporting events. In 2010, 81% of seniors took the SAT with an average score of 1585 (above the national score for this test!) See more information on this school and other area schools here.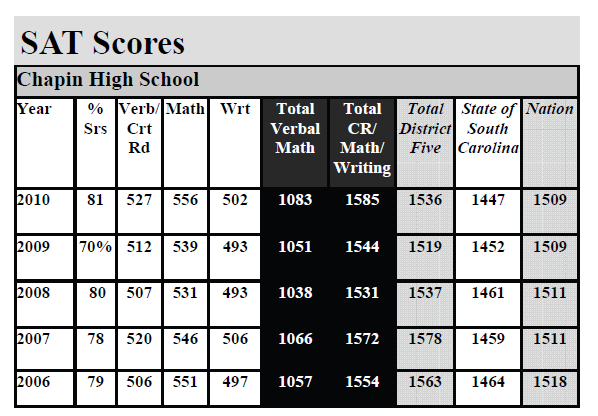 Home Sales and Statistics
The Waterfall Subdivision in Irmo, SC was began in 2002 and flourished with great reviews and success over 2003 and 2004. Area builders such as Mungo and KB Homes began homes ranging in the low to mid- $100's. The homes in Waterfall are vinyl siding construction with some brick fronts and accents. All of the homes have a 1 or 2 car garage. And the size of the homes range from just over 1200 square feet to as large as almost 2600 square feet!
Today, in February of 2011, the Waterfall Subdivsion is still thriving!
There are currently 8 HOMES FOR SALE in and 2 Homes Under Contract!
SEE ALL WATERFALL HOMES FOR SALE HERE!!
Waterfall Subdivision
Homes Currently on the Market
(as of Feb. 7, 2011)

Total # of Homes For Sale

8

# of Foreclosures/Short Sales/REO's or "As Is" Homes For Sale

1

Average

List Price

$158,060

Average Size

of Homes For Sale

1737 sq feet

Average

Price-Per-Square-Foot

$90.99
Waterfall Subdivision
Homes SOLD Stats for 2010

Total # of Homes SOLD 2010

3

# of Foreclosures/Short Sales/REO's or "As Is" Homes SOLD 2010

0

Average # of Days on the Market 2010

130

Average List Price SOLD 2010

$147,833

Average Size of Homes SOLD 2010

1441 sq feet

Average SOLD Price Per Square Foot 2010

$102.59
HOA Information for Waterfall, in Irmo SC
The WATERFALL HOA (or HomeOwners Association) is a not-for-profit corporation whose primary mission is to ensure that the Waterfall neighborhood in Irmo, SC is always a wonderful place to live. (all information per the WHA website)
Along with the Waterfall HOA, a Columbia, SC mangagment company, MJS, Inc. helps to manage the day to day operation of the association—maintenance of our beautiful waterfall, park, and other common areas; enforcement of the covenants; and approval of any changes that a homeowner may wish to make to a house or property within Waterfall.
The board of the Waterfall HOA consists of five directors. The directors are community members who volunteer their time for three year terms. The terms are staggered so that two positions are up for re-election on an annual basis. The directors are elected by the association members at the annual HomeOwners meeting held each January.
Currently there are commitees withing the Waterfall HOA that govern Architecture, Communication, Landscape, Crime Watch and Social Events.
To see all homes that are governed by this Home Owners's Assocation currently for sale visit my Waterfall Subdivision in Irmo, SC site!
My name is
Dena Mixon
and I am professionally trained and experienced REALTOR®, licensed in the state of South Carolina. I love to assist home buyers and home sellers in the Midlands of SC! My areas expertise include the homes for sale in